Our Services
Build Software LLC is a software development and consulting firm focused on building semantically enabled applications. Our services currently include:
Semantically driven software engineering
Metadata management
Knowledge management
Business rule development
Ontology/taxonomy development
Semantic Web training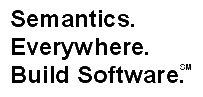 Our slogan is not just meaningless words. Our vision is that everything is semantics, not just the data, but also the business rules and software itself. Our goal is to bring that vision to the software development process.